After 15 years of meticulous planning, the Hyatt Regency opened its luxurious doors in 2022 as the perfect complement to the Salt Palace Convention Center and a leading pathway to larger conventions, meetings and spectacular shows and events.
As one of the key players in the hotel's design and construction, Fetzer played a significant role in making the very first Hyatt Regency built in Utah a statewide showcase for fine custom craftsmanship and stylish guest amenities. That's because our fine woodworking talents can be eyed throughout the entire $365 million facility featuring a plethora of earthy tones and a mountainous, alpine motif that stretches across the hotel's 700 rooms, 33 suites, massive meeting spaces, glamorous ballroom, 24-hour market, lounge and three restaurants.
"Fetzer was an exceptional partner," said Adam Noelck, a project manager at Hensel Phelps. "We were looking for a company that had the proven expertise to bring the visions of interior designers and architects to life, while trying to be as cost-effective as possible. They certainly demonstrated their value engineering ability, in-house design capabilities and manufacturing expertise that brought all the elements together. This was achieved through a detailed process where we met one or two times weekly to work through each space individually, room by room and element by element to create the fine millwork that would fit neatly into our overall budget."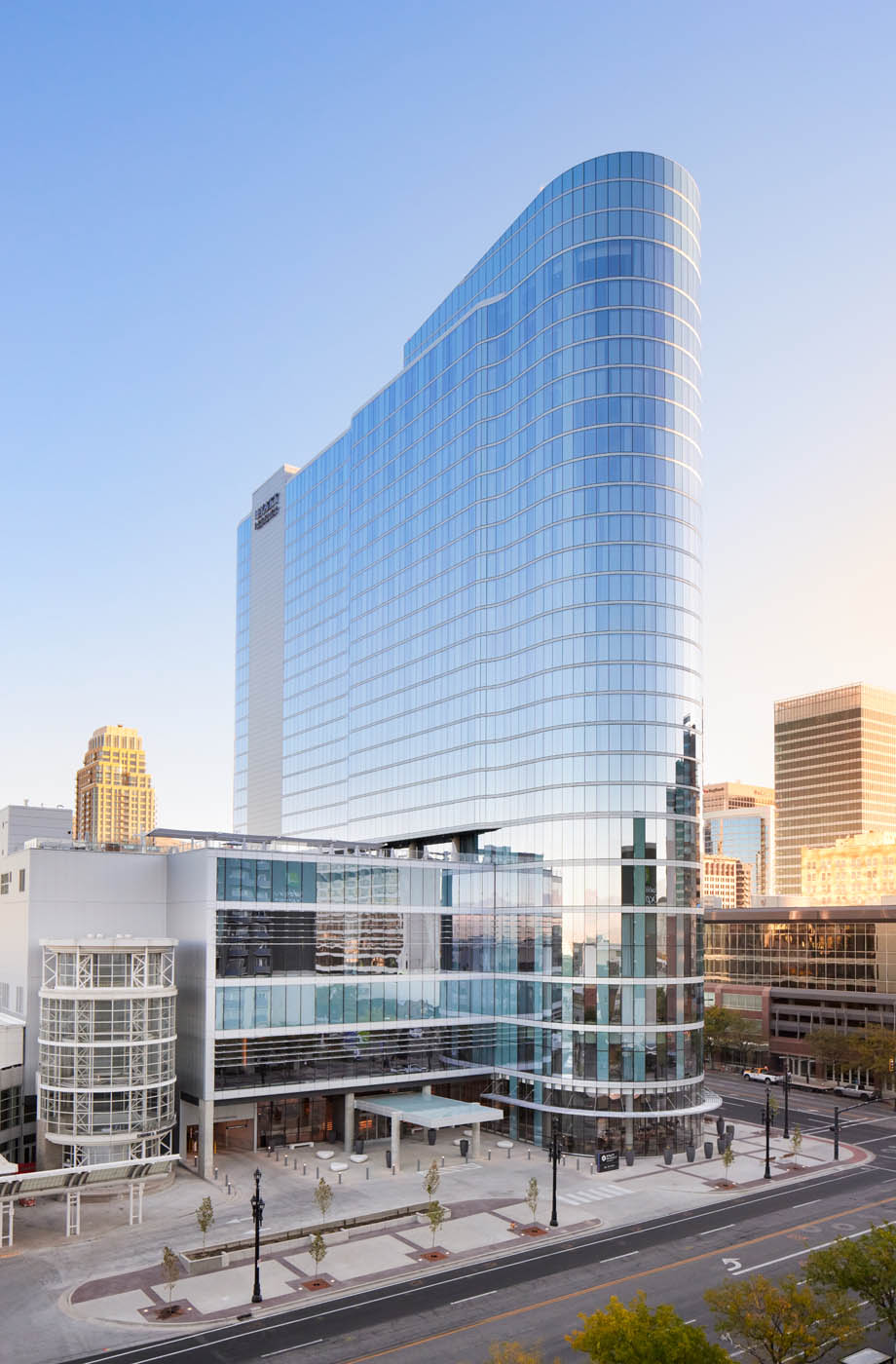 Bringing Visions to Life
According to Isaac Shoaf, a project manager and site superintendent at Fetzer, who coordinated the installs and served as an intermediary with Hyatt Regency design and the construction teams, the project was unique in itself since it included "a lot of unique elements of glass, stone and metal within our millwork package and the dedicated efforts of about 200 Fetzer employees."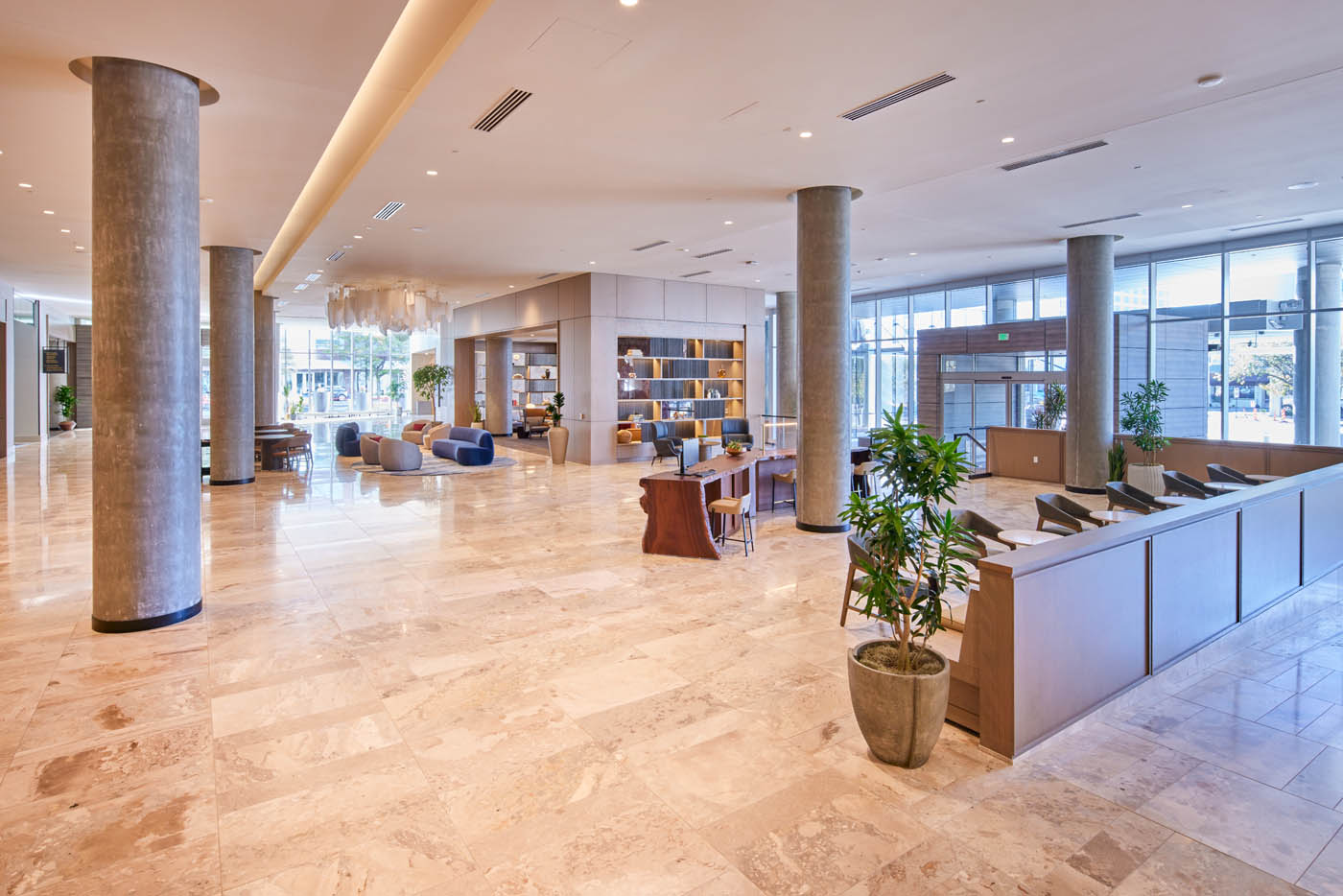 As a result, Hyatt Regency guests are immediately greeted on the hotel's first level by a slew of amenities crafted by Fetzer. The lobby lounge, entranceways, elevator banks, reservation desk, market and restaurant were all created through a stunning combination of Rift Cut White Oak, light gray stain and Rift cut white oak dark stain. The market bar was then layered with casework and panels that utilized a hard maple scalloped design painted with Mount Etna Satin Stone and a "Greystroke" polished by Arizona Tile, while all of the floors' concrete columns were wrapped with a black powdered and coated metal base.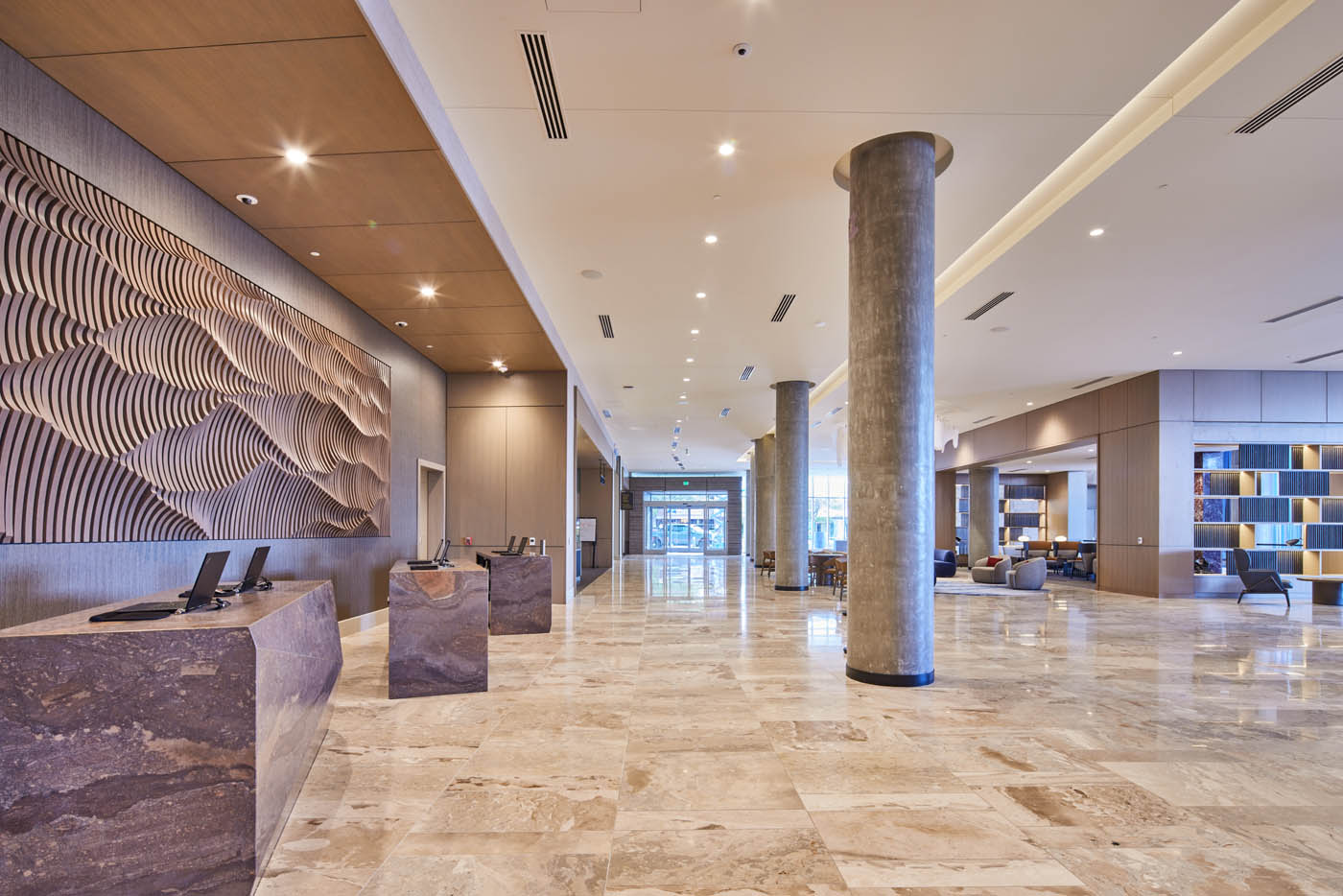 However, at the heart of the first floor lies the multi-dimensional reservation desk that's fully wrapped in a Cabernet Brown stone and accented from behind by a slat-styled, custom art wall designed by Peter Fetzer to form a 3-D and strikingly-artistic replication of the Wasatch Front Mountains. "We wanted to create a work of art that felt personal and relatable to the people of Salt Lake City," explained Fetzer. "So, we conceptualized an airborne view that captured the beautiful ridges of the Wasatch and Oquirrh Mountain ranges that surround the city. This concept was developed in partnership with the designer and took nearly a year to complete given our constant contact with the client, who wanted to create a very natural look that emphasized earthy tones within their budget."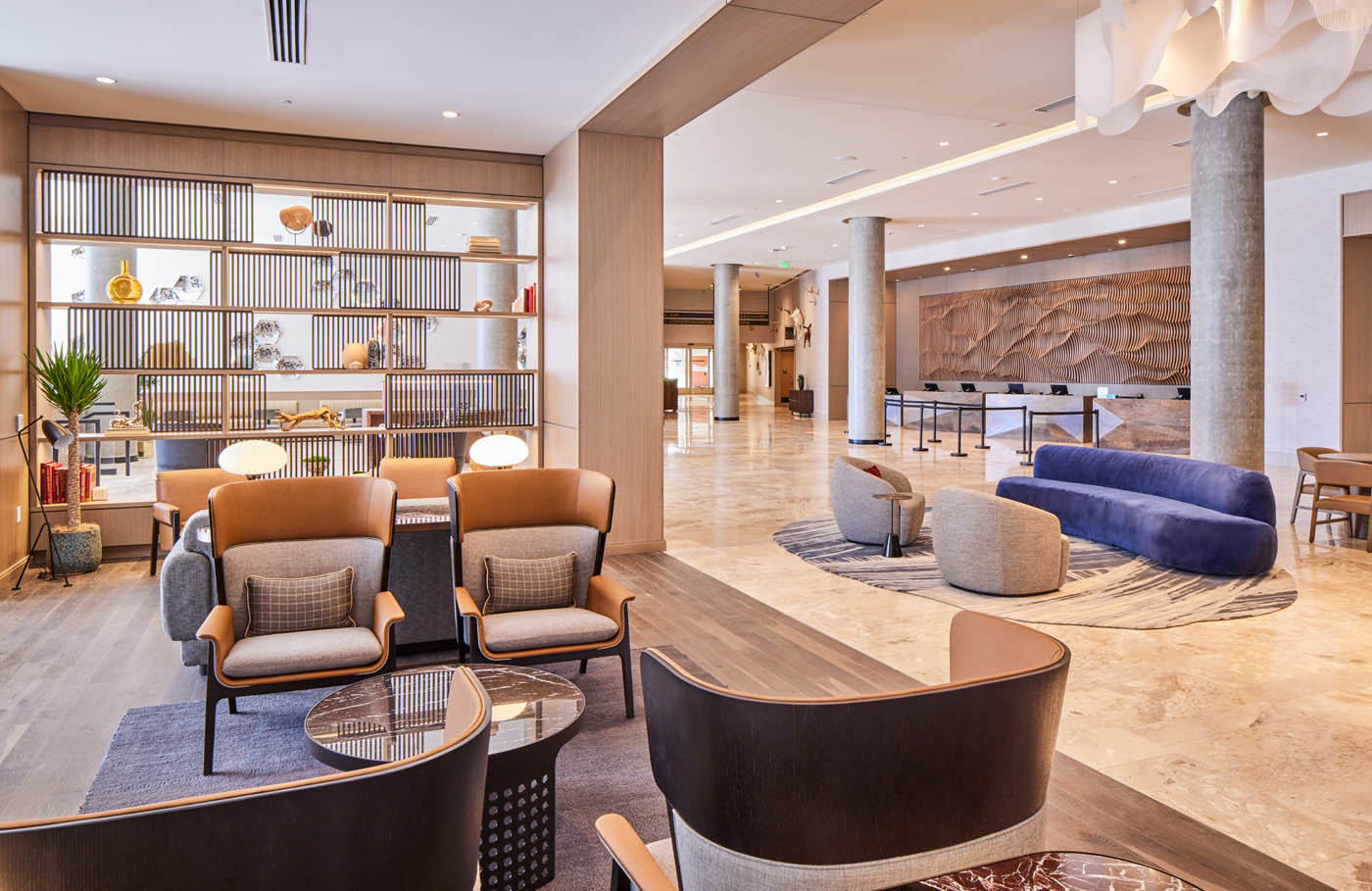 According to Fetzer this included the use of red oak to form the 8 ft. 3-inch tall by 8 ft. 8-inch-long sculpture that was also highlighted by the original wood's blemishes and knotholes. The artwork was then stained to tone down the wood's red and orange undertones, while using light and shadows to create patterns of great contrast that magnificently created the illusion of the mountain's peaks and ridges."
"This was a true team effort that utilized the expertise of our design, drafting and professional design departments," added Fetzer. "Plus, I can very comfortably say that not everyone in this industry possesses the talent, tools and knowledge to create a piece of art like this, which is really a tribute to our entire organization."
And beyond the first floor's work of art are the design and build of the restaurant's slat style ceiling system incorporating Chemical Rose Gold Inlays and sconces and "Cabernet Brown" Brushed hostess stations; the lobby area's 20' live edge walnut slab table with booked matched walnut veneers; and a back bar of millwork showcasing a roughly 25' tall black powdered coated framed millwork package. Additional features include a Bendheim Art Glass Mirror and laser-cut glass shelves etched with a metal-fused, white gold satin finish and hexagonal shapes.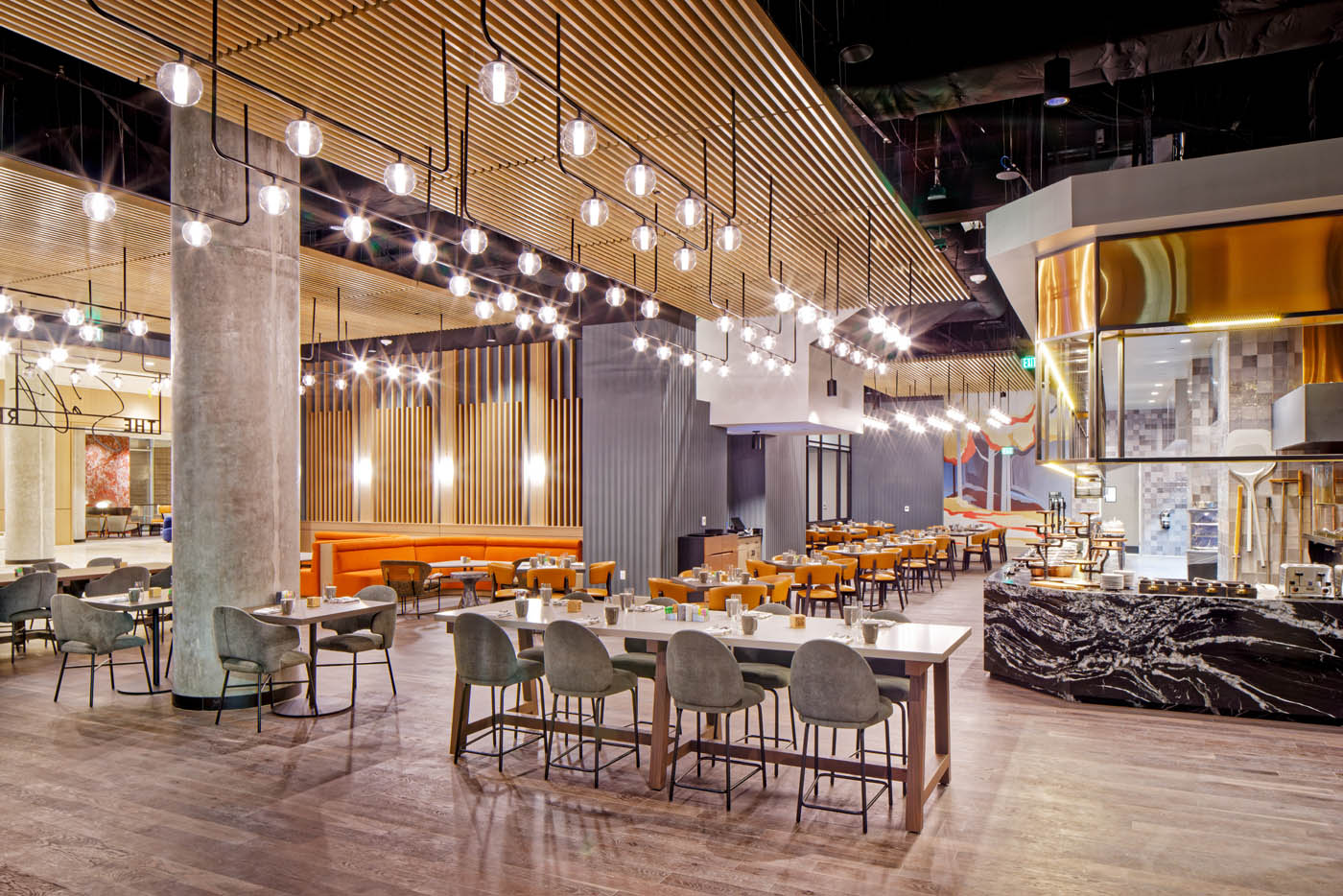 Fetzer Design Specialties Highlight Ever Meeting & Guest Area
And then there were the ballrooms, lounges and meeting rooms adorned by a wide assortment of accoutrements ranging from Paldao Veneers, Nuage Stone, Rift White Oak slat wall systems and paneling. This included the level six bar highlighted by "Nudge Quartzite" Polished Tile, Bendheim Amber Glass and a Brushed Brass base and frames.